Cultural Experience | DIY Zongzi Workshop
2022-07-01 11:02
The Dragon Boat Festival is coming soon on 3rd June this year.

While the Dragon Boat Festival falls on a different date every year on the Gregorian calendar, the holiday actually occurs on the fifth day of the fifth month every year on the Chinese Lunar New Year calendar.

On 29th May, Haida organized a DIY Zongzi(粽子) workshop where our teachers experienced the whole processes of making Zongzi.

Zongzi is the main food eaten during the Dragon Boat Festival. It is a sticky rice dumpling made out of glutinous rice, wrapped in bamboo or lotus leaves to form a pyramid shape that is tied with plant stems.

There are also a number of different fillings available, such as egg yolk, lotus seeds, ham, red bean paste, rose, melon, date, chestnut and pork. Some places even make a mixed sweet and savory filling for Zongzi.

At the beginning, teachers were introduced the origin and customs of the Dragon Boat Festival.

Next, Maggie showed us how to make Zongzi, and explained detailedly how to fold the leaves, fill in the sticky rice and red bean paste, and wrap Zongzi with strings.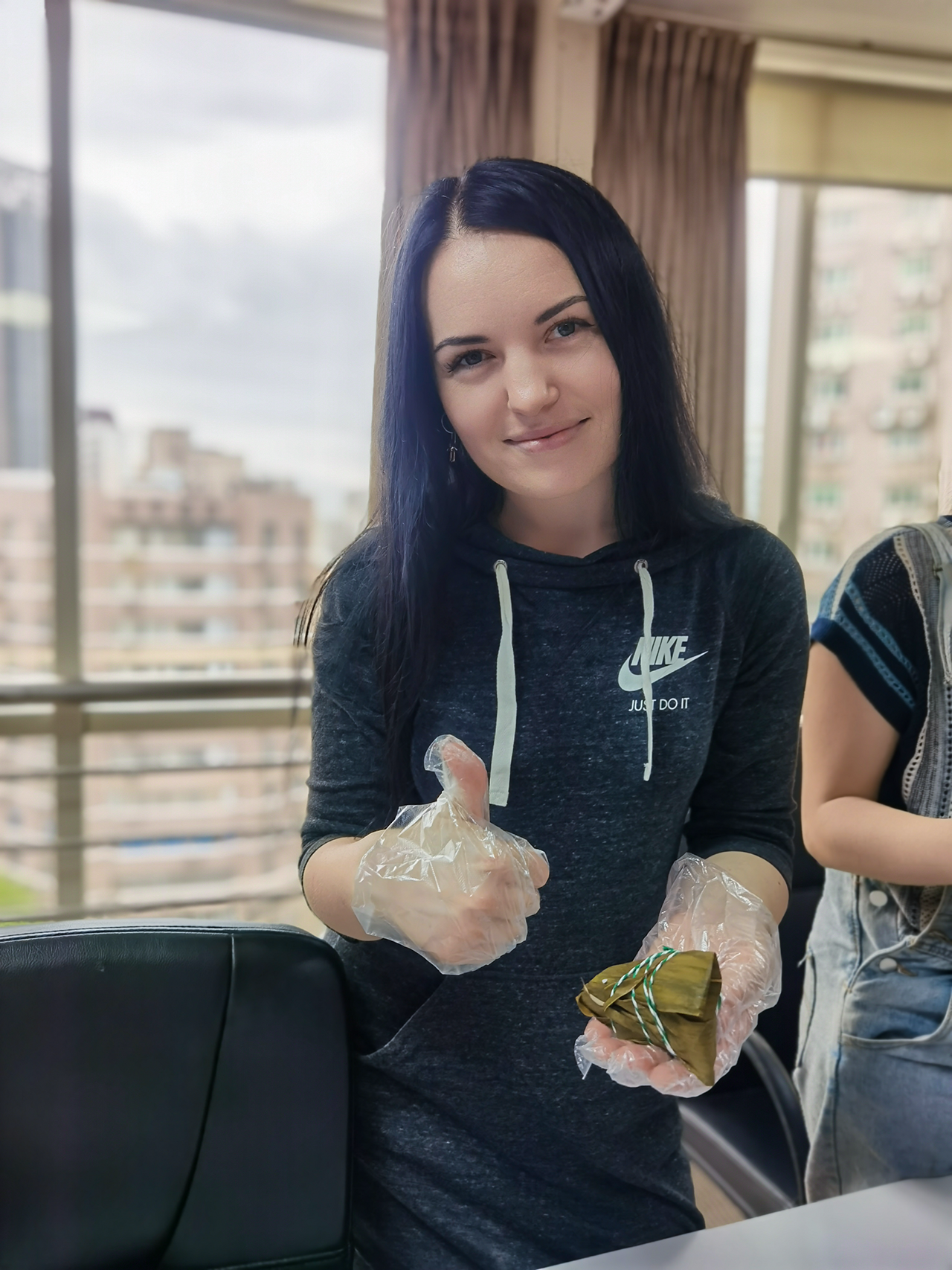 After steaming or boiling, Zongzi will become gooey and sticky, the natural flavor of the glutinous rice and the sweetness of red beans and dates, infused with the fragrance of bamboo leaves, Zongzi is undoubtedly an appetizing snack of the day.

Afterwards, every teacher got a perfume pouch(香囊) and a knitted bracelet. The perfume pouches are made using hand-sewn bags containing powders of calamus, wormwood, realgar, and other fragrant herbal medicines.





In ancient times, the fifth lunar month has been considered the 'month of poison', because the dreaded 'five poisonous creatures' (五毒) begin to emerge in this month.

Traditionally, the five creatures refer to centipedes, scorpions, snakes, toads, and spiders. Therefore, on the fifth day of the fifth lunar month, people wore the fragrant pouches to avoid catching contagious diseases and to keep evil spirits away.



All teachers did great job that day and went home with happy face. Maybe anyone who does not love traditonal festivals with delicious food and lovely gifts simply doesn't exist.

The experience of the Dragon Boat Festival culture may be a special memory for our teachers to recall for many years later.